Orioles Victory Number 9: 5-3 over the Kansas City Royals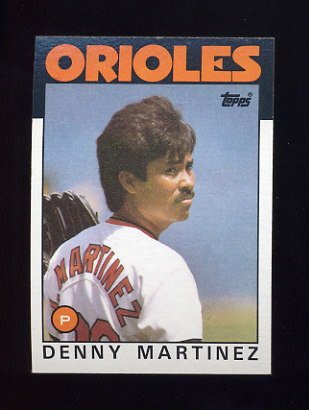 1986 Topps Denny Martinex
Welcome back to the win column, Baltimore! Following an 0-6 west coast road swing and 7 straight losses overall, the Orioles returned to their winning ways by knocking off the Royals 5-3 to pick up their first win in the month of May.
Once again proving that the win is a nebulous stat at best, the winning pitcher was Richard Bleier. The lefty reliever now has 3 wins (a third of the the O's total victories) in 22 innings pitched. Not bad work if you can get it. Would it be hilarious if a reliever led the Orioles in wins this season - yes, yes it would.
The big hit of the game was from Chris Davis, a three run blast that cleared the left field wall by about three rows. For the slugging first baseman it was just his fourth home run on the season, but his second in as many nights.
It seems the big man's bat is slowly waking up. While his average is still below .200 he has picked up hits in four of his last six games, with several being to the opposite field. Could the return of Mark Trumbo to the line-up be just what he needed in order to get back into the groove?
Probably not since Davis is hitting below him in the order, but the re-addition of Trumbo does make the overall line-up much, much better. In fact, the games over the last week are as close to the full roster that we've seen this year. Yes Tim Beckham is still out, but would he be that much of an improvement over Danny Valencia at third base? Probably not.
So, are the O's primed to go streaking now that their line-up is in order? More importantly, will a brief winning streak keep the ownership from doing what needs to be done (blow the roster to smithereens)? Most likely no to the first unless their pitching can average more than one decent start a week and god I hope not to the second.
They need to completely overhaul this roster from the minors to the majors. This season is lost no matter how many games they win. Accepting it now instead of later will allow them to maximize the assets they have. Get that bidding war going between Chicago and L.A. for the services of young Mr. Machado.